The "Fortsol" Line is composed by steel door and windows in a great variety of models, providing quality for both residential and commercial buildings.
Top quality products, in accordance with the NBR 10.821 standard set by ABNT (the Brazilian National Standards Organization);
Projects in a "tubular" design, which enhances their resistance and reliability;
Windows equipped with weatherstrips and rubber seals, which prevents water and dust from getting in;
Sliding doors with stainless steel rail, chrome handles and tetra key;
Opening doors with lock in stainless steel color;
The products in this line do not include the glass panels;
FortSol windows with bottom rail of galvanized steel;
FortSol products have 5 year warranty from date of purchase since the Instruction Manual's guidelines are respected.
They also need paint finish (Synthetic solvent-based enamel paint);
We do not recommend it for coastal regions due to the saltiness of the air.
Details that make the difference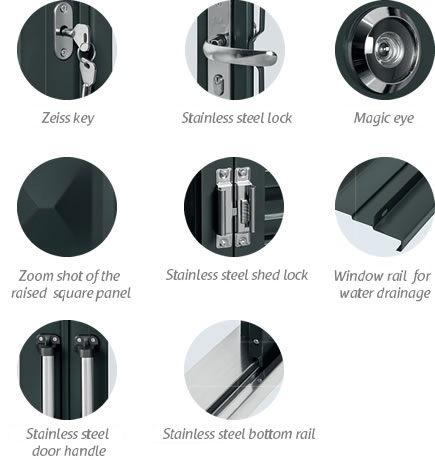 Door rotation
The Ramassol Group offers some door models that allow for two types of rotation (right-hand or left-hand). You should check the type of INSWING you desire: